I LOVE TROUBLE (1947)
Starring Franchot Tone (43 at the time), Janet Blair, Adele Jergens and a small part for Raymond Burr.
Directed by S. Sylvan Simon.
Music by George Duning
Costumes (gowns) by Jean Louis
This is a long movie (2 hours) but well worth the watch. It is the studio's try out of Franchot Tone's for a private detective series. While Tone is usually fun to watch, I don't think he has the same sort of edge as the noir detective Dick Powell had or the charm of William Powell.
As most of the reviewers point out, this script is straight out of the Chandler/Hammett line of novels with the suave, wisecracking detective, but it is well worth watching.
My favorite lines from the film are:
Heavy: This is a gun in your back.
Tone: Yeah, I've seen one before.
The filmscript was written by Roy Huggins and was based on his novel "The Double Take." This same character, Stuart Bailey, was played years later by Efrem Zimalist Jr. in the television series 77 Sunset Strip.
Huggins created a number of the most famout TV movie series - Maverick, The Fugitive, The Rockford Files, and 77 Sunset Strip.
I thoroughly enjoyed this movie. I did, however, stop it at one point and noticed that there was an hour and 8 minutes more to go. I was surprised. Some of the reviewers criticized the movie for the length, but it held my attention throughout.
It's a bit amazing that the film does hold the attention since the plot is as one reviewer noted "confounding." He said that he could not "figure out who was who in this impossibly complex story."

This makes the film very much like "The Big Sleep," which created a template for the detective film noir. "The Big Sleep" is also widely considered to be impossible to decipher, but completely enjoyable nevertheless.
Part of the difficulty in understanding the story line in this film is that even though Huggins adapted his own novel, and some of the scenes are lifted directly from the book, the story (according to a reviewer who had read the novel) has been speeded up and abbreviated and some of the names changed.
It doesn't help that most of the women look extraordinarily alike. And most of them have multiple identities in the plot. One of the reviewers noted: "I thought the various babes were all the same person." And, there are a lot of babes all with complicated histories.
Added to this is the fact that the two foreign husbands also looked just alike to me and their accents were indeterminate.
A number of the reviewers just could not accept Tome in the role of a smart mouthed, hardnosed detective. I have always thought Tome was an acquired taste, and he is truly dreadful in films which I suspect he detested.

(Note: There is one film he made with Joan Crawford, for example, where they had him dressed up in lederhosen.)
As one reviewer noted: "All the sweeping fedoras and dangling cigarettes in the world can't make Tone fit into this role."

Tome always considered the business of film making as invasive to the private lives of the actors. He also felt that films required a totally different pace from theatre performances. I never saw him in a theatre performance, but I suspect he never quite felt comfortable with the film pace.
When he was married to Joan Crawford she (predictably) tried to take over promoting his career. Tome, however, was always more interested in theatre, even in small productions than film. It is thought that this difference between the two was one of the reasons for their divorce.

So, to me, Tome's performances always have a "hostage" feel to them. I get the impression that he doesn't really want to be where he is. But, he usually manages to pull off a credible performance.
When some heavies were beating up on Tone, I thought I saw Raymond Burr lurking on the sidelines. When the man spoke (he has about three lines) there was no mistaking it was Burr. This was an extremely small part and Burr would have been 31 at the time this film was made. So, he came into prominence a lot later in his life than I remembered.
All the prints of "I Love Trouble" were thought to have been lost for decades. A restored version of it was shown in a film festival in 2007, and I think this is the first time it has been shown on television (TCM). One reviewer snarked that this movie wouldn't have received a second glance if it hadn't been thought lost. I disagree. I think it is a fun romp even at two hours.
One of the other things I noticed in the film and then read comments about from other reviewers is the soundtrack. As one of the reviewers put it, the soundtrack tries way too hard to give the viewer advanced notice of the tone of the scene. The soundtrack tries to be "the star of the film." It does signal lightheartedness, like when Bailey crawls out from under a bed where he has passed out and finds a beautiful babe in the bed. And it gives advance warning of danger. It seems to me that audiences in 1948 would have been too sophisticated for this. One of the reviewers thought that this soundtrack was so invasive and insulting he couldn't watch the movie. But, for me, it faded into the background.
The film was well directed by S. Sylvan Simon. One of the reasons that name is not more familiar is that he died only three years after making the movie at the age of 41.
Sources
Wikipedia, IMDB
| | |
| --- | --- |
| Posted on August 2, 2020 at 9:10 PM | |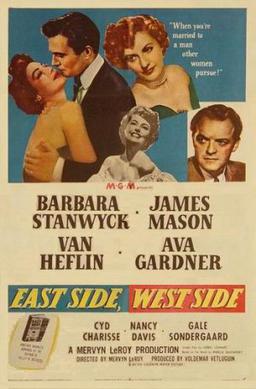 EAST SIDE, WEST SIDE (1949)
It's always such a pleasure to come across a black and white movie I haven't seen. "East Side, West Side" is one of them.
The cast itself is enough reason for watching. Barbara Stanwyck, James Mason, Van Heflin, Ava Gardner (looking absolutely stunning), Cyd Charisse, Nancy Reagan, Gale Sondergaard, William Conrad, and William Frawley among other faces familiar from later television programs.
The music is by Miklos Rozsa, cinematorgraphy by Charles Rosher.
The costumes are by Helen Rose.
When I was a teenager, Pamela Mason, James Mason's wife, was making the rounds of the shows like Merv Griffin, talking openly about what a skunk and womanizer James Mason was. While talk like this is now commonplace, it was mildly shocking in the 1960s and highly entertaining. From what Pamela Mason said the role James Mason played in this film was tailor made for him.
Not only is he a womanizer, he whines to Stanwyck that he's an "addict" who can't control himself. Evidently, the appeal of addiction as an explanation of cruelty didn't start with the rehabilitation industry in the 1970s.
Married to Barbara Syanwyck, Mason has an affair with Ava Gardner. Mason goes back to Stanwyck (and she forgives him) but he just can't stay away from Ava (who could?). Stanwyck finally realizes that a man like Van Heflin is much better for her than a jerk like Mason, but not without a struggle.
In the final scene, Stanwyck has walked out (we presume to go to Heflin) and Mason stands staring at himself in the mirror. I couldn't help wondering how much Mason (the actor) realized he was staring at himself rather than the character he was playing. In the final shot, we see Mason from behind. He is alone, leaning against the patio door jamb, staring off over the East River.
If Pamela had been there, she would have probably encouraged him to jump.
Stanwyck and Heflin are great together. This was the last of three movies they made together. The others are: "The Strange Love of Martha Ivers" (1946) and B.F.'s Daughter (1948).
Stanwyck and Heflin have a chemistry that's nice to watch. It's more about friendship than sex. That's perfect for the roles they play in this film. Ella Smith in "Starring Miss Barbara Stanwyck," describes them as "an excellent screen team" and "extremely natural together."
Also discussing Stanwyck's work in East Side, Smith says that it is "particularly subtle, playing a quiet character who keeps her emotions in check. There is nothing showy or flamboyant about what she does, but she manages to convey her inner turmoil." As Smith writes, "She has a way of holding tears or strong emotion back - and then letting her voice break on the last word of a line.....The technique is a standard one, but difficult to do; unless it is supported by real emotion it will not convince."
Stanwyck looks great in the dresses designed by Helen Rose, but nobody can wear clothes like Ava Gardner. I can't imagine facing a more threatening "other woman."
Gardner had already made her breakout film "The Killers" with Burt Lancaster by the time this film was made, but she was still not a leading lady. She held her own, however, against Stanwyck.
The one scene they have together is electric and it is a pleasure to watch the two of them circling around each other.
Stanwyck in their scene, plays so well the woman with inner strength. Her confidence in her jerk of a husband says more about her than about him. Even though she is completely deluded by his charm and his promises, you never lose respect for her.
Gardner plays a wonderful, ruthless other woman, ready to fight to the death for a man she knows is just as unprincipled as she is. She even tells him how weak he is and delights in manipulating him. But, when Stanwyck delivers her final speech to Gardner, you also can see just the right touch of vulnerability, doubt in the icy Gardner. As I said, it's just beautiful to watch the two of them.
This is another scene in which you wonder how much of the drama was based on real feelings. Gardner and Stanwyck's husband Robert Taylor, had engaged in a torrid affair when they worked together on Gardner's previous movie "The Bribe (1949). It's not known whether Stanwyck new about the affair or not, but Stanwyck doesn't strike me as a woman who misses much. She and Taylor divorced the following year.
Mason, at this time, was a big star in England. He came to Hollywood, but refused to sign a contract with a studio fearing he would be typecast. He was uncomfortable attempting an American accent in this film and was criticized for his voice in this picture. There is a scene between him and Stanwyck in which he says something like: You convinced me to read poetry and I convinced you to watch sports. It's jarring because you can't imagine James Mason drinking beer at a sports arena. But, by and large, he pulls it off. I would have cut this particular dialogue, though.
And evidently, Mason wasn't the only one uncomfortable on the set. Cyd Charisse was playing her first straight dramatic role. She plays the woman in love with (and eventually dumped by) Van Heflin.
Gale Sondergaard was only 50 when she played the part of Stanwick's mother in this film. Stanwyck was 42. This was the last role Sondergaard played in a film for 20 years. She refused to testify before the House Un-American Activities Committee and was blacklisted along with her husband, producer-director Herbert Biberman.
Bill Frawley (of I Love Lucy fame) plays the bartender. Frawley became impossible to cast in films because of alcohol problems. Lucy, however, believed in him and stood up for him to cast him in her long-running series. She was a good egg, Lucy. Too bad about her own jerk of a husband.
This is a clever script written by Isobel Lennart and like so many good films of the era, it was based on a novel (by Marcia Davenport).
Of course, the bad girl, Ava Gardner, has to be killed, but both Stanwyck and her husband are suspects. It is here that the detective expertise (recently used in the war) of Van Heflin comes into play to save them both and prove Heflin a good guy.
There's a wonderful scene where Heflin suddenly starts acting like a drunk to trap the real killer, an enormous blond model played by Berverly Michaels. Heflin and Michaels get into a slugging match (that's right I said a slugging match, a slugging in the face match) in the front seat of a car. In the film, Heflin wins and knocks Michaels out, but if it was real life, I would bet on the blond.
According to IMDB, Greer Garson, Fred MacMuray and Claudette Colbert were considered for the leads.
The film was directed by Mervyn LeRoy who reportedly loved working with Stanwyck. He said she was one of the easiest, most cooperative and most professional actors he ever worked with. Stanwyck started off poor, without parents, and worked herself into a career in films. She never lost the work ethic she established on her way up and maintained a career long after her contemporaries had stopped working.
Categories: None
/